Hey Family….It's the beginning of June and officially summer time!!  Even though in South Florida it always seems like it's summer time. Here is look #9 of 40 of my favorite looks.  I  absolutely love a great jumpsuit and this one is on the top of my list….
When I saw this pattern, I knew it was a MUST HAVE in my wardrobe. It's perfect for the Ft Lauderdale heat! I made view C and added 3 inches in length to the hem.
I used this amazing mustard floral jersey knit from LA Finch Fabrics. The fabric is so soft to the skin it's unbelievable. I love the way it drapes and flows.  I knew this fabric was a winner when my 16 year old daughter said "Mom, you made that?" I said yes.  She said "Ohhh YESSSS!!! Please make me one just like that…with the same fabric!!"
Now, do you see those pockets? OMG…I love pockets. Honestly, I usually don't put anything in my pockets, but to know that they are there is satisfying.
The open back string detail sold me on this jumpsuit. I can adjust it as loose or tight as I want.
As much as I love the open back, I knew I couldn't wear a bra with it.  So I added bra cups to my jumpsuit.  Not only does it give me the lift I wish I had naturally, but I don't have to wear a bra and that's ALWAYS a plus in my eyes…lol
If you want to create this look CLICK HERE and HERE
Thank you so much for stopping by. I hope you enjoyed this look as much as I did. I can't wait to see you again.
Much love and many blessings!
Tisa
Pattern: Simplicity 8635 View C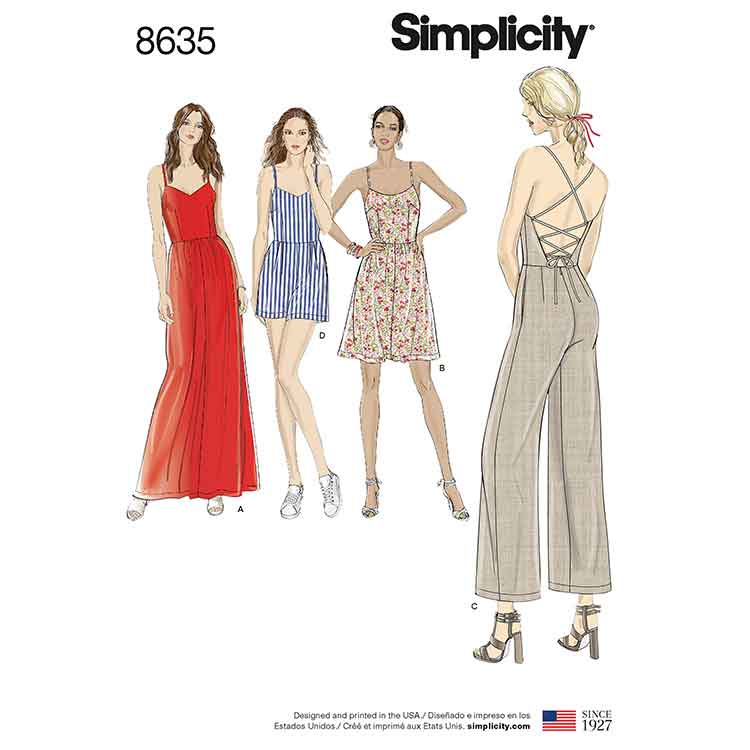 Fabric: LA Finch Fabrics
Photo Cred: Luke Ballentine Moment2Remember